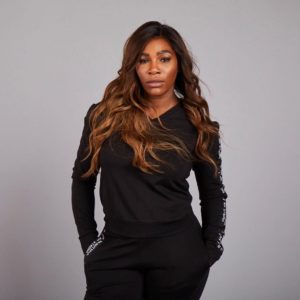 Serena Serves Up Surprise By Joining The Poshmark Board!
Ace tennis player and millennial style icon, Serena Williams just hit the ball out of the court with her newest venture, joining the online resale marketplace Poshmark.
Having started her own retail clothing line, named "Serena" back in 2011, Serena Williams joins Poshmark Board of Directors to make her presence felt in the trending world of online buying and reselling.
The successful online startup is growing in leaps and bounds with every
passing minute and adding an influential youth icon like Serena will
surely keep up the momentum. We are excited about the Serena
Williams Poshmark collaboration. In fact, looking forward to what this
new age tennis champion will bring to the table for this retail start up.

Poshmark is a leading social e-commerce website that deals in buying
and selling of unused clothes and apparel, including jewelry, bags, shoes
and other accessories. The brand was started eight years back by Manish
Chandra, who is now its CEO. Poshmark intends to make reselling of
clothes easier and faster, with just the click of a few buttons.
What Makes Poshmark Popular?
Much like other e-commerce reselling platforms like eBay and
Craigslist, Poshmark provides its buyers with a wide range of unused or
unworn items, ranging from clothes and shoes to jewelry and makeup.

With its own app and website accessible from both phone and laptop, it
enables you to purchase high-end fashion and designer items at dirt
cheap price, to be delivered right at your doorstep.
It also connects you to an online fashion community, where designers
and stylists are always working together to give you exclusive fashion
advice and discuss different tastes, daring you to experiment until you
discover your own unique style.
Secondly, it is a great platform if you are looking to earn a few extra
bucks while clearing out the excess stuff from your wardrobe. With the
primary focus on used clothing, Poshmark allows anyone to sell their old
or unworn clothes to buyers across the United States for half the price of
purchase. It has listings for different categories where sellers can post
their items for sale.
You can find various designer clothes as well as newly-made clothes in
the listings, which, for obvious reasons, are priced at a higher value.
The sellers can interact and engage with the users and grow their
followers and customer base by posting consistently and being
consistently active on the Poshmark website. 
The site offers a great opportunity to those that are looking for a lucrative 
side hustle with zero investment and hefty profits. Some sellers have 
scripted so much success that they have converted their Poshmark store 
into a professional boutique.
 With over five million sellers who run their personalized online stores
and boutiques in the site, catering to over 40 million shopping
enthusiasts, Poshmark has disrupted the retail industry with its growing
popularity and customer-centric interface.
Not new to the fashion and clothing industry herself with her own label,
Serena that launched last year, Serena Williams joined Poshmark with
a vision and a purpose. This is her second stint as a Board Director, after
having taken up the same position in the startup SurveyMonkey in 2017.
Williams has admitted before that her entrepreneurial spirit has been
influenced by her husband Alexis Ohanian, the founder of popular
online platform Reddit.
She learned more about Silicon Valley through him and decided to be
a part of promising startups since then. Launchingher own retail clothing
line was the first step and now joining Poshmark's Board of Directors is
the newest feather in her cap.
In a video released by Poshmark, Serena reveals her interest in working
with a company that encourages entrepreneurship, stating the major
impact Poshmark has had in the fashion world by socializing the concept
of shopping and selling, which took the retail industry by storm.
Confessing that she has been using Poshmark for years as a buyer,
Serena shares her love for the brand and her intention of using the site as
a platform to raise for her Posh Closet charity, the proceeds of which
will go to the Yetunde Price Resource Centre, the nonprofit started by
Serena and her sister. The charity primarily works on trauma-related
programs.
Talking about the brand, Serena said, "The more I learned about the
company, the more I learned, like, 'Wow, this is literally me.'"
An entrepreneur, activist, tennis superstar and philanthropist, the new
mom Serena Williams is all up for unique and exciting opportunities
with Poshmark.
The Future Of Poshmark With Serena On Board
Serena's entry to the Poshmark Board could mean a lot of things for the
company. With a huge following and named as one of the most
influential people by reputed magazines, Serena Williams is a name that
carries a lot of brand value and if used smartly, can propel the company
to great heights.
Poshmark's CEO Manish Chandra said in a press release that "Poshmark
was built by a community of strong independent women, just like Serena 
Williams. As both the company and community continue to grow, it's
important that we bring smart and diverse new voices to the table, and
we couldn't be more thrilled about what the future holds with Serena in
our corner."
Upon her announcement, Serena opened her own Poshmark seller
account, where she debuted with her Poshmark Charity closet, stacked
with custom products from different luxury designer brands like Roberto
Cavalli, Gucci and Yves Saint Laurent among others, which vanished
off the shelves as quickly as they appeared.
All the proceeds go to her YPRCLA charity for helping victims of
severe trauma and violence.
Williams is now a part of the small five-member Board of Poshmark,
where she will play a crucial role in the next few years, to decide the
future of Poshmark and chart up a vision for the brand. "Passion for
fashion", as she puts it is what attracted her towards Poshmark and she
wishes to implement the same in her role as a Board Director.
Serena Williams and Poshmark are bound to have a great future together!