We have a very special post today – we have recently partnered with probably the most famous pair in the Poshmark Community – The Posh Kings!
If you use Poshmark and social media at all – you are sure to have heard of them; they've got nearly 200k followers!
They'll be helping us to educate and nurture Poshers like you into growing their businesses into a full-time income or scaling up for those already there!
In this blog, we have a little interview with them to introduce you to who they are!
Introducing The Posh Kings
We are Brad & Jon, otherwise known as The Posh Kings in the reselling industry. Prior to
reselling, we owned a chain of men's luxury clothing stores.
We enjoyed great success with the stores carrying such brands as Versace, Dolce & Gabbana, Roberto Cavalli and so on.
It was an exciting career. We were proud to be named the best men's clothing store by numerous publications for 18 years running.
However, it was time to slow down from the hustle and bustle of the retailing world. We sold the stores and relaxed a bit. We then started hearing about all of the people that were starting to resell!
We heard about Poshmark and decided to give it a try back in 2015. We were very fortunate to find immediate success on Poshmark.
We are very proud to be in the top sales rankings in the company. With much work came great success!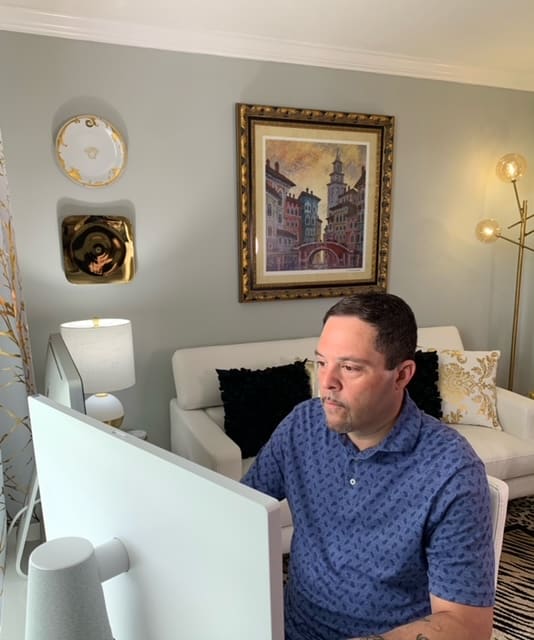 Brad, part of the Posh Kings at work checking their listings!
How long have you been using Poshmark and how did you become aware of it?
We have been full-time sellers on Poshmark for 7 years now.
We actually first heard of it on a weekend television news show!
What is your background in reselling?
As mentioned we owned a chain of 9 men's luxury clothing stores.
We attended Mercedes Fashion Week for many years along with numerous other
fashion events throughout the country. We also worked closely on advisory boards for
numerous fashion companies.
What does your normal workweek look like?
Well, as you can imagine there are numerous aspects of a resellers week!
Sourcing
Preparing new merchandise for sale
Photographing & Listing New Merchandise
Numerous meetings
Promotion planning
Warehouse inventory maintenance
Also, all of the amazing items that Reseller Assistant helps their clients with which include:
Sharing, Community Shares, Likes, Following and so much more!
How do you go about sourcing your items?
We're very fortunate that we typically have plenty of merchandise to choose from.
We typically focus on a large amount of retail arbitrage.
Also, we do source preowned items. Largely the preowned items we choose are in the luxury ranges.
What has been the hardest part of scaling up your business?
Without a doubt, the hardest part of scaling our business has been finding the time
to do so. We know we're lucky that it is two of us working together.
However, we definitely needed more help. This is why Reseller Assistant is crucial to a
growing business – you can't do everything yourself!
How big a part has social media helped you in your business?
Social media is extremely important to a Poshmark seller. Not only is it an
excellent source of community support, but it is a wealth of knowledge for a
growing reseller.
Also, being able to advertise your products and promotions is extremely important.
Aside from Poshmark, where else do you frequently list your items?
We typically list the same merchandise on each platform we use.
However, every platform sells merchandise differently. Meaning certain categories or brands can sell better on different platforms!
Where do you see the industry going in the next 12-24 months?
Well, many sellers are currently experiencing some slowdowns.
Which partly are due to seasonal fluctuations. However, right now this is also due to some platform modifications that are taking place.
Overall, I would say reselling will become stronger before too long. We will say that people will continue to look for good value.
Simply because of the rise of all other everyday costs!
How do you deal with algorithmic changes that Poshmark makes?
Well, I think everyone is trying to see what will be the final results of all of the
Poshmark changes.
We will say the most important thing we feel is to stick to the core items of Poshmark selling.
Great listings, sharing, following and sending offers consistently!
Suggested Reads:
Finally, what are the top three things that a newbie Posher should do?
We believe the best way for a new seller to gain success is to list as many items
as possible.
The more items you have listed the greater probability of a sale!
Share your items as much as possible. The greater the visibility of your items, the
greater the chance of a sale.
Also, following other Poshers is so important to draw attention to you, your closet and your products for sale.
Thanks for that! Where should people follow you?
You can get hold of us on any of the following social networks – we would love to meet you!
---
Do you have any questions for Brad or Jon? Leave them in the comments below and we will get them to take a peek and answer them! Look out for some cool content from them shortly!