5 Secret Tips for Keeping Your Closet Active on Poshmark
Are you wondering how do I get my Poshmark closet noticed but not getting any new ideas? If yes then we bring you this guide in which we will be sharing with you 5 secret tips for keeping your closet active on Poshmark.
However, before we move to the secret tips, let's dig a little deeper into why it's important to have an active closet on Poshmark and what are the benefits of keeping your closet active. So let's start:
Why Is It Important To Keep Your Closet Active On Poshmark?
Poshmark is an online social commerce platform and just like any other social media platform, it's important to remain active on it to maintain a good engagement rate. If there isn't much or any activity on your Poshmark closet then it means that you are not active, and sooner or later you are going to lose all the sales that you are getting right now (if you are getting any).
How Does Being Active on Poshmark Affect Your Sales?
Similar to any other e-commerce marketplace, Poshmark also has an algorithm that it works on. Right now the Poshmark algorithm considers sharing as the greatest factor for getting engagements and sales.
When a listing is shared on Poshmark, it gets displayed on top of the feed of your followers along with search results. The more you will share your listings, the more they will remain fresh in the minds of your followers.
So if you are active on Poshmark, adding new products, sharing them, and engaging with your followers will surely gonna help you in boosting your sales.
Benefits of Keeping Your Poshmark Closet Active?
Having a consistently active closet on Poshmark can lead to some great benefits. These benefits include:
Increased Visibility
As we mentioned earlier, Poshmark is all about listing, sharing, and engaging. The more you do listings and sharing and the more you engage with other poshers, the more visitors you will get to your closet. Make sure that your listings get visibility everywhere from search result pages to the feed of your followers.
More Followers & More Engagements
Poshers are always on the quest for closets where they see lots of activities and where they can potentially find new products every single day. So having an active Poshmark closet means that more poshers will likely follow you hence, enabling you to reach a wider audience to sell your products.
Potential Increase in Sales
It's a famous phrase that "what's seen is sold." An active closet on Poshmark leads you to greater visibility and that visibility leads to a potential increase in sales. However, make sure that you have good photos of the products along with persuasively written product descriptions if you want to convert those views into sales.
Revenue Growth
Every posher dream to have such revenue growth on Poshmark that can lead to making it their active income stream. However, it takes time, effort, and commitment to achieve such a level of revenue growth. By being maximum active on Poshmark, you can surely pave the way to increase your revenues.
5 Secret Tips For Keeping Your Closet Active on Poshmark
1- Try To List New Items Consistently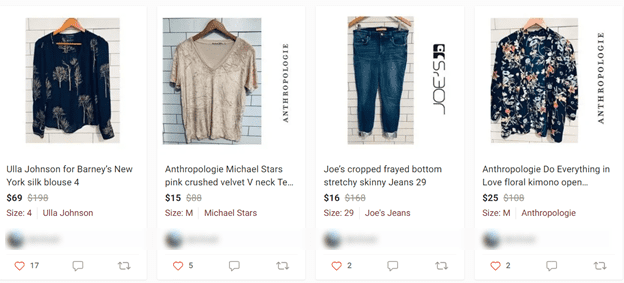 No matter if you are a social media content creator or a Poshmark seller, the rule of thumb is to post consistently. The more frequently you will list new items on Poshmark, the more visitors will visit your closet.
Even if you are just starting out, don't list all of your products on the very first day. Rather, list them on daily basis. It's good to list 2 to 3 items per day so that your listings remain fresh in the feeds of your followers.
Moreover, try to list different types of products in the same niche. For instance, if your selling niche is fashion clothing then consider selling jeans, hoodies, jackets, and hats with tops and t-shirts that you are already selling. This will persuade people to visit your closet more often and see what's new in it.
Similarly, it's better to list products of different brands so that you can cater to a larger buyer base who are looking to shop for products of various brands.
2- Share & Then Reshare
To this date, sharing is probably the most effective way to keep your closet active on Poshmark. You might be wondering I already knew that so what's the secret?
Well, you know that sharing your listings or even the entire closet multiple times a day at different times can help you remain active on Poshmark. But do you have enough time to share all day?
Probably not!
Most of the people selling or reselling on Poshmark aren't doing it as a full-time job, it's just a side gig for them. So they don't get enough time to share in specific timings.
However, you can hire a Poshmark virtual assistant service like Reseller Assistant to get sharing and resharing done without putting in any manual effort. A virtual assistant will share your listings at the right times so that you can have an increased chance of getting viewed by the masses and eventually more sales.
Not only that, a virtual assistant for Poshmark can also help you with relisting products while you are busy doing your job.
Hiring a virtual assistant will only cost you a small investment but it's worth your money!
3- Promote Your Listings Outside Poshmark
Even after putting all your efforts into sharing on Poshmark, sometimes it's not good enough. Therefore, you need to find other ways to promote your listings outside Poshmark.
There are amazing social media platforms like Pinterest and Instagram where you can create a handle or profile of your Poshmark closet to promote your listings for free. There are more than 2 billion active users on Instagram and 445 million users on Pinterest. So if you come up with an effective social media management strategy, you can definitely end up getting more traffic to your closet and eventually more sales.
You can also consider doing cross listing your products on other online marketplaces such as eBay, Depop, and Mercari for increased sales. There are websites like crosslisting.com where you can buy a plan for bulk cross listing according to your needs.
4- Participate in Posh Parties & Promo Days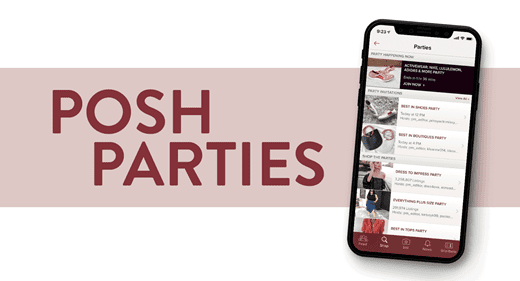 One of the best ways you can keep your Poshmark closet active is by promoting it at posh parties. Posh parties are virtual shopping events on Poshmark where poshers can share their hot product listings while abiding by the party's theme. For example, if there is a bag–themed posh party going on then you can share your bag listings in it to stand a chance of grabbing a few sales.
Moreover, you can join posh parties to follow other poshers in there so that they can follow your closet back and that will help you in getting increased engagements.
Other than posh parties, there are promo days on Poshmark where sellers offer percent-off sales and free shipping discounts to attract new buyers to visit their closets and view all the listed items. You can also leverage promo days to clear out your closet while making quick money.
5- Poshmark Thrifting Groups On Facebook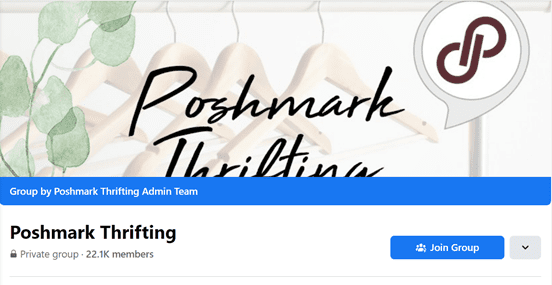 Our last secret tip might be a reveal for most of the Poshmark sellers.
You know how to share your listing on Poshmark and just above we told you how you can promote your listing on other marketplaces (like eBay, Depop, and Mercari) and social media platforms (like Pinterest and Instagram). However, do you know that there are other Poshmark communities outside Poshmark on Facebook?
Probably not!
There are dozens of Poshmark thrifting groups that you can find on Facebook where Poshmark sellers share their product listings with thousands of other poshers on the group. Sharing on these groups can really make a big difference in bringing external traffic to your Poshmark closet.
Moreover, these groups are super active and can also give you a slight insight into the selling trends and what brands to sell on Poshmark.
Frequently Asked Questions (FAQs)
Is it difficult to keep your Poshmark closet active?
Keeping a Poshmark closet active is not at all difficult, you just need to know the drill. Posting, sharing, and promotions are pretty much everything you need to do to keep your closet active.
How many times a day should you share your Poshmark closet?
It's better to share your listing on Poshmark 2 to 3 times a day. Make sure to share your listings in those times when buyers are most active on Poshmark.
What are the best times of day to share on Poshmark?
The best time to share on Poshmark is generally anywhere between 5 pm and 9 pm. However, you can also opt to share your listing in the morning because that's when everyone is checking out feeds on their phones.