What Brands Sell Best On Poshmark? Selling Guide 2021
No matter if you just started selling on Poshmark or it's been a while since you started but struggling to get enough sales, there is one question that has definitely come up in your mind.
What brands sell best on Poshmark?
Well, we have the answer to your question but before we proceed to the actual discussion, let's find out if it's worth selling on Poshmark or not!
You might have something in your closet you just don't want lingering and taking up space anymore. What do you do? You could either throw it away and be at a loss over what you paid for it, or you could resell it for a profit!
Poshmark is the world's leading reselling website – it has everything a reseller could've hoped for. From clothing of top popular brands available in different sizes and different colors to fashion accessories and home decor items, Poshmark has it all.
Not just that, Poshmark also offers you a great earning opportunity to make huge profits either by selling your own clothes and items or reselling by getting them from thrift stores. It doesn't matter if you are selling new items or reselling old clothing, it's worth selling on Poshmark!
However, when you're looking to make a profit on Poshmark, it's important to understand several factors that would contribute to making your closet sell out quickly. Such as; brands and trends.
A vast majority of the sellers that are selling on Poshmark don't exactly know what products to sell while starting their closet.
Brands and trends are two of the top attributes that can have an influential impact on your Poshmark selling. These two things are mighty effective in driving traffic to your closet and get you a huge amount of sales.
4 Things You Should Know To Make It Big On Poshmark:
1. Every Brand Can Sell Good If You know the Drill
It's important to understand that what might sell on another sellers closet in an instant, might take a while before it sells on yours. Basically, Poshmark operates on a community guided approach whereby the more likes you've generated on your posts, the more likely your item makes it at the top of searches.
CHECK OUT: How to Double Poshmark Sales and Make the Most of Your Poshmark Journey?
Here's where Reseller Assistant helps you out. Reseller Assistant is a virtual assistant service that helps in getting likes, follows and shares for your Poshmark closet. By keeping you more prominent for other buyers, it generates more popularity on your posts.
Now, what gets you more likes? Aesthetics. Poshmark allows the sellers to add up to eight images for a listing. The more aesthetically pleasing your images will be, the more likely listing will gain everyone's attention.
If you do the math: more likes equals more sales!
2. Product Research must be Done Right
Some sellers might be under the impression that only popular brands sell well on Poshmark. While that might be true to an extent – they are 'popular' after all, it isn't true that other brands are disregarded all together.
You have to do your own product research for getting the ideal products to feature in your Poshmark closet. If you are good at selling and you are offering a quality product at a reasonable price. Then there is no way that your product won't get sales. So product quality and selling price is the key!
3. Market Your Product On Platforms Where Your Audience Exists
Though it's a fact that aesthetically pleasing product images and keyword-rich descriptions & titles work pretty well in bringing sales, you don't have to limit your sales only to those. Make efforts in finding the right platforms where you think your target audience exists, to market and promote your products.
For instance, you can take leverage of online social sharing platforms such as Instagram, Pinterest, and Facebook to reach your potential customers. Moreover, you can go for influencer marketing on such platforms for making your Poshmark products reach the masses.
You can also try promoting your product on online Q&A platforms such as Quora by answering to buyers queries regarding cheap products, where to buy, etc.

4. Take Item Condition & Type Into Consideration
The type of product you're selling and the condition it's in is absolutely crucial to make profitable sales. To understand what things sell best on Poshmark, you need to be familiar with the concept of low-balling.
'Low balling' means negating a price with the buyer to come up with one that suits both of you.
CHECK OUT: How to Handle Low Ball Offers?
It wouldn't matter what brand you're selling, nor would it matter how much you've paid for it – if it isn't in good condition, you'll either get low-balled to a very low number or it won't sell at all.
In-demand and rarer styles sell much better than styles that seem like they came from anywhere.
What Brands Sell Best On Poshmark 2021?
After going through several reports, researches, customer reviews, and seller experiences, we've compiled a list of twenty-five brands that have been reported to sell-out best on Poshmark. Moreover, we've compiled separate lists of brands for specific categories so that it can be easy for you to decide what to sell if you are going for a particular niche such as women's clothing, kid's clothing, home accessories, etc.
Poshmark is open to anyone over the age of 18 with a credit card. However, it's important to understand what demographic is more prevalent on the app. After going through the list of top selling brands on Poshmark, you'll notice a trend – they mostly offer women apparel.
It is quite clear that selling women attire, shoes, fashion, and makeup accessories, lingerie, footwear, will let you earn lots of money in profits.
Check out the list of best-selling Poshmark brands for 2021!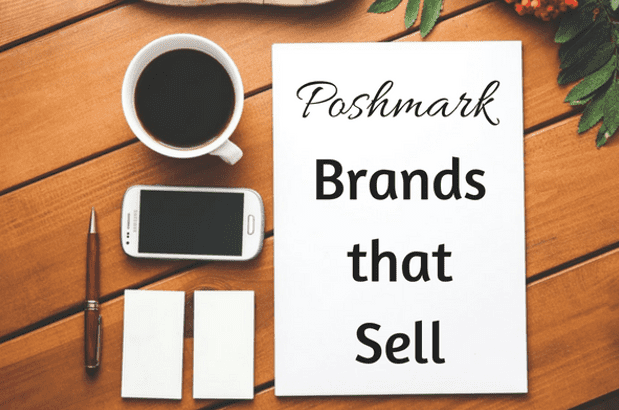 Top 25 Best Selling Brands On Poshmark 2021:
Nike
Kate Spade
Levi's
Rothy's
Polo
Lacoste
All Saints
Mother
Eloquii
Johnny Was
Mark Jacobs
Tieks
Ray-Ban
Golden Goose
Off-White
IRO Ashville
For Love & Lemons
Torrid
Tory Burch
Free People
Reformation
Fjallraven
Tom Ford
Lululemon
Ralph Lauren
Best Selling Women's Brands On Poshmark
Top Sellers:
Louis Vuitton
Coach
Chanel
Lululemon Athletica
Victoria's Secret
Tory Burch
Prada
Tiffany & Co.
Jordan
American Eagle Outfitters
Trending & Popular:
Secret Treasures 
Telfar
Escada
Brooks Brothers
Saint Laurent
LipSense
Rae Dunn
Ashley Stewart
Jennifer Lopez
Betabrand
Best Selling Men's Brands On Poshmark
Top Sellers:
Adidas
Polo By Ralph Lauren
Levi's
Reebok
Burberry
Converse
Timberland
PUMA
Banana Republic
PATAGONIA
Trending & Popular:
Funko
BKE
Rock Revival
Spyder
American Fighter
Haggar
RHONE
Marc Anthony
Jos. A. Bank
Ted Baker London
Best Selling Kid's Brands On Poshmark
Top Sellers:
Nike
Justice
Old Navy
Disney
GAP
Janie and Jack
The North Face
Gymboree
UGG
CHAMPION
Trending & Popular:
Billabong
Cotton On
32 Degrees
Bogs
Mayoral
True Religion
All In Motion
Shopkins
Robeez
Okie Dokie
Best Selling Home Brands On Poshmark
Top Sellers:
Threshold
Target
Precious Moments
Pottery Barn
Hallmark
Lenox
Hobby Lobby
Anthropologie
Tupperware
The Pioneer Woman
Trending & Popular:
Bed Bath & Beyond
Willow Tree
Limoges
Department 56
Fitz and Floyd
Anchor Hocking
Crate&Barrel
Arbonne
Fenton
Vineyard Vines
Pro Tip to be a Pro Seller On Poshmark!
After understanding both the demographic and what appeals to that demographic on Poshmark, you might be wondering: How do I use this to my advantage?
One word: Clearance sales!
Clearance sales are annual or end of season sales on all brands whereby high-end items are sold at affordable prices and affordable items are sold at throwaway prices. You have to do some product research to find some products from popular brands that are currently in demand.
After that, you have to find the clearance sale of those items on the internet. Brands very often offer high discounts clearance sales, from which you can buy their items for up to 70% off.
You can also opt to go for online wholesale marketplaces like Alibaba. There you can find vendors offering branded products at the best wholesale prices. Buy from them and list the products on your Poshmark closet.
Since products from famous brands sell like hotcakes, therefore, it won't get you much time to sell the entire stock. Ultimately, you will make quick money on Poshmark in no time!