When it comes to selling on Poshmark, one question that always comes up in every seller's mind is what brand sells best on Poshmark?
A vast majority of the sellers that are selling on Poshmark don't exactly know what products to sell while starting their closet.
Brands and trends are two of the top attributes that can have an influential impact on your Poshmark selling. These two things are mighty effective in driving traffic to your closet and get you a huge amount of sales.
Things To Know Before You Start:
1. What Sell For Other Might Not Sell For You
You need to understand the fact that not every brand or product sells for every seller. You have to do your own product research for getting the ideal products to feature in your Poshmark closet. Here below, we have listed the names of those popular brands whose items go viral on Poshmark in very less time. Choose those items that you think, you can potentially sell!
2. Every Brand Can Sell Good If You Are Good At Selling
Sellers often think that only popular brands sell on Poshmark. It is true to quite some extent. However, the idea that products from other brands don't sell is not right. If you are good at selling and you are offering a quality product at a reasonable price. Then there is no way that your product won't get sales. So product quality and selling price is the key!
3. Take Item Condition & Type Into Serious Consideration
The condition of the product or item you are selling and its type matter a lot. Doesn't matter if it's from a famous brand. If it's not in good condition then you can't sell it. In-demand and rarer styles sell much better than styles that seem like they came from anywhere.
What Brands Sell Best On Poshmark 2020?
After going through several reports, researches, customer reviews, and seller experiences, we have taken out some brand names that sell best on Poshmark.
A majority of the best-selling brands that we have listed below are mostly brands that offer women's items. So it is quite clear that selling women's clothing, attire, costumes, fashion, and makeup accessories, lingerie, footwear, will let you earn lots of money in profits. Check out the list of best-selling Poshmark brands for 2020!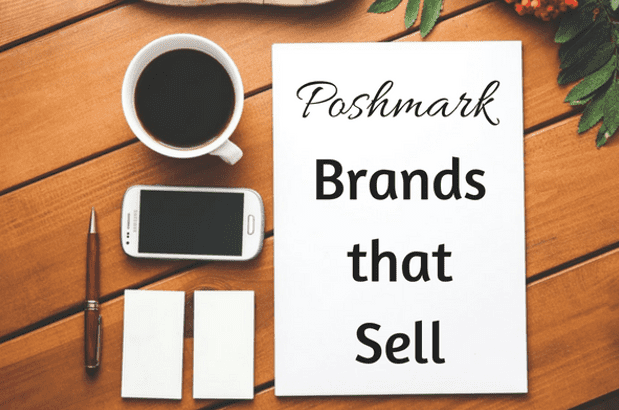 Top 25 Best Selling Brands On Poshmark 2020:
Nike
Kate Spade
Levi's
Rothy's
Polo
Lacoste
All Saints
Mother
Eloquii
Johnny Was
Mark Jacobs
Tieks
Ray-Ban
Golden Goose
Off-White
IRO Ashville
For Love & Lemons
Torrid
Tory Burch
Free People
Reformation
Fjallraven
Tom Ford
Lululemon
Ralph Lauren
Pro Tip That Can Make You A Pro Seller On Poshmark!
Since it is a proven fact that products from popular brands like Nike, Levi's, Kate Spade, and Mother are best-sellers on Poshmark. So we got a pro tip for you that will make you a pro seller on Poshmark, perhaps the best seller. Guess what???
You have to do some product research to find some products from popular brands that are currently in demand. After that, you have to find the clearance sale of those items on the internet. Brands very often offer high discounts clearance sales, from which you can buy their items for up to 70% off.
You can also opt to go for online wholesale marketplaces like Alibaba. There you can find vendors offering branded products at the best wholesale prices. Buy from them and list the products on your Poshmark closet.
Since products from famous brands sell like hotcakes, therefore, it won't get you much time to sell the entire stock. Ultimately, you will make quick money on Poshmark in no time!